Kendrick D. Weaver
The Reverend Dr. Kendrick D. Weaver spends much of his time exploring the depths and dimensions of simplicity, silence, biblical meditation and prayer. His travels and research on Christian spirituality in Africa, Latin America and the Middle East have led him to deeper understandings of the spiritual path. He seeks to enrich communities through teaching the principles and practices of the early church.
Reverend Weaver leads workshops and classes for the Sleeping with God Meditation Center, a 501c3 non-profit organization, which he founded. His calling is to educate and train churches, communities, and individuals in the Christian contemplative life. As a certified hypnotist and as a meditation instructor, Rev. Weaver uses his training to facilitate holistic healing. He studied philosophy at American University and went on to receive his Master of Divinity from Harvard Divinity School. As a consulting hypnotist, he is certified by the National Guild of Hypnotists. Dr. Weaver also has specialized training in subconscious states such as autogenics, heart center hypnotherapy and medical meditation. He studied within various monastic traditions such as Augustine, Franciscan, and Carmelite at Washington Theological Union and obtained a Doctor of Ministry in Christian Spirituality. Rev. Weaver is an ordained elder in The United Methodist Church and the pastor of Union United Methodist Church in Upper Marlboro, MD. He is the author of six books, including the best selling work, Meditate Like Jesus: Uncover the Meditative Practices of Jesus. He is married to Lynnette Weaver and two reside in Upper Marlboro, MD.
SWG Meditation Center
The Sleeping with God Meditation Center is a non-profit 501c3 (tax exempt) organization. The Center's mission is to train and educate individuals, groups, churches, communities and organizations in the contemplative and meditative life. We strive to be a hub for training, dialogue, health and inspiration in the meditative life. Let us help your organization, church or even family reach a healthy and peaceful life.
Lynnette A. Weaver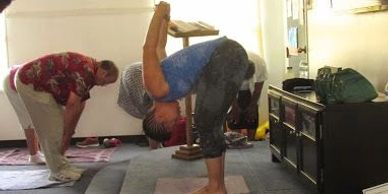 Lynnette Weaver is a teacher, educational consultant, poet, aspiring vegetarian, and yoga instructor. She currently holds a Master of Education and serves as a Lead Teacher at the Montgomery College Early Learning Center. She is also the Director of the Children's Church program at Union United Methodist Church.
Lynnette Weaver is a registered and certified (RYT 200 hour) yoga teacher. She began a consistent yoga practice to recover from a broken bone. The practice of yoga not only helped her body to heal but decreased her stress levels and provided more clarity of mind. Lynnette teaches group and private sessions. She believes there is a kind of yoga for all shapes, sizes, ages, and levels of ability. Lynnette loves teaching intro classes for those seeking to deepen their understanding of yoga. She uses yoga postures, breath work and meditative techniques to promote strength, flexibility, tranquility, and the ability to listen to the promptings of God's Will and Spirit.